Free educational sites > FAQ > Audio/Video/Text private chat rooms

To be able to speak with your penpal (audio, video), please open a private chat room here.

You can also use a TEXT chat room (only) if you don't want to activate the audio/video features.

--- HOW TO ACTIVATE THE AUDIO / VIDEO FEATURES:
Click on START BROADCASTING.
A popup asks you to authorize the use of your mike and your camera.
Click on MICROPHONE ONLY if you would like to use the audio feature (only) or on your camera
Next window: "now select your microphone".
Next window:
Option 1) PUSH-TO-TALK = when you click on the button TALK, your penpal can hear your voice. If you don't use this button, no audio is sent.
Option 2) OPEN MICROPHONE = you are not required to use the button. Your penpal can hear your at any time.
Example with 3 penpals: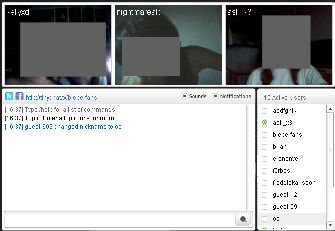 Be careful when you use chat rooms.