Learn German > German lessons and exercises > German test #23773


Song : Hänsel and Gretel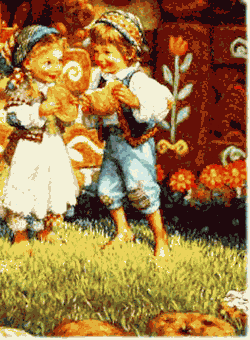 Voici un texte de chanson enfantine. Je vous le donne en français et en anglais.
A vous de la reconstituer en allemand.
I give you a song for children in French and in English.
Reconstitute it in German.
Hänsel and Gretel got lost in the forest.
It was so dark and so bitterly cold.
They came to a little gingerbread house.
Who may be the lord of this little house?

Hoo! Hoo! There shows up an old witch!
She lures the children into the gingerbread house.
She appears quite friendly, but o Hänsel, what misery!
She wants to bake him as brown as bread in the oven.

Though, as the witch looks into the oven,
She will be pushed by Hans and little Gretel.
The witch had to bake, the children go back home.
Now, the tale of Hänsel and Gretel is over.
Hänsel und Gretel