Learn German > German lessons and exercises > German test #91803


Diane Krüger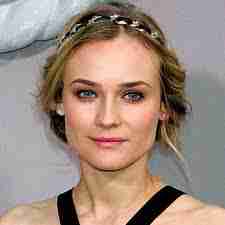 Diane Krüger ist ein deutsches Mannequin, eine Tänzerin und Schauspielerin. Sie wurde 1976 in der Nähe von Hannover geboren. Sie wollte Primaballerina werden. Sie hat in London gewohnt, um klassisches Ballet zu studieren. Eine Verletzung am Knie zwang sie, nach Deutschland zurückzukehren. Sie begann ihre Modelkarriere in Paris. Sie war erst fünfzehn Jahre alt und wohnte in Frankreich. Dadurch spricht sie fließend Deutsch, Französisch und Englisch. Sie kann ihre eigenen Rollen in ihren Filmen synchronisieren.
2001 heiratete sie den französischen Schauspieler Guillaume Canet, aber fünf Jahre später ließen sie sich scheiden.

Sie wird Schauspielerin und ist bekannt als Helena in "Troja" (2004). Helena ist die Königin von Sparta. Im Abenteuerfilm "Das Vermächtnis der Tempelritter" spielte sie die Rolle Abigail Chase. Sie ist die Hauptfigur neben Nicolas Cage, der Benjamin Gates spielt.
2005 spielte sie im französischen Film "Frohe Weihnachten" mit. Sie verkörperte dort eine Sängerin. Dieser Film erzählt die Verbrüderung der feindlichen Soldaten in den Schützengräben des ersten Weltkrieges. Ein anderer deutscher Schauspieler, Daniel Brühl, spielt in diesem Film auch mit.

Im Film "Auf Wiedersehen, Bafana", der im Jahre 2007 gedreht wurde, wird die Geschichte von Nelson Mandela erzählt. Es sind die Memoiren seines Gefängniswärters. Sie spielt Gloria Gregory, die Frau des Gefängniswärters.
2009 ist sie Bridget von Hammersmark in "Unrühmliche Mistkerle". In diesem Film verkörpert Bridget eine deutsche Schauspielerin und Doppelagentin für den britischen Geheimdienst.
Der Film "Leb wohl, meine Königin", der 2012 herauskam, ist ein französischer Historienfilm. Diane Krüger verkörpert die Königin Marie-Antoinette. Diese Geschichte handelt von der französischen Revolution vom 14. bis 17. Juli 1789. Der Regisseur Benoît Jacquot bekam die außerordentliche Genehmigung, direkt im Schloss Versailles zu drehen. Dieser Film eröffnete das Filmfestival von Berlin im Februar 2012.

Twitter Share
German exercise "Diane Krüger" created by mfdjai with The test builder. [More lessons & exercises from mfdjai]
Click here to see the current stats of this German test



Please log in to save your progress.
---
End of the free exercise to learn German: Diane Krüger
A free German exercise to learn German.
Other German exercises on the same topic : Geography, history, politics, literature... | All our lessons and exercises